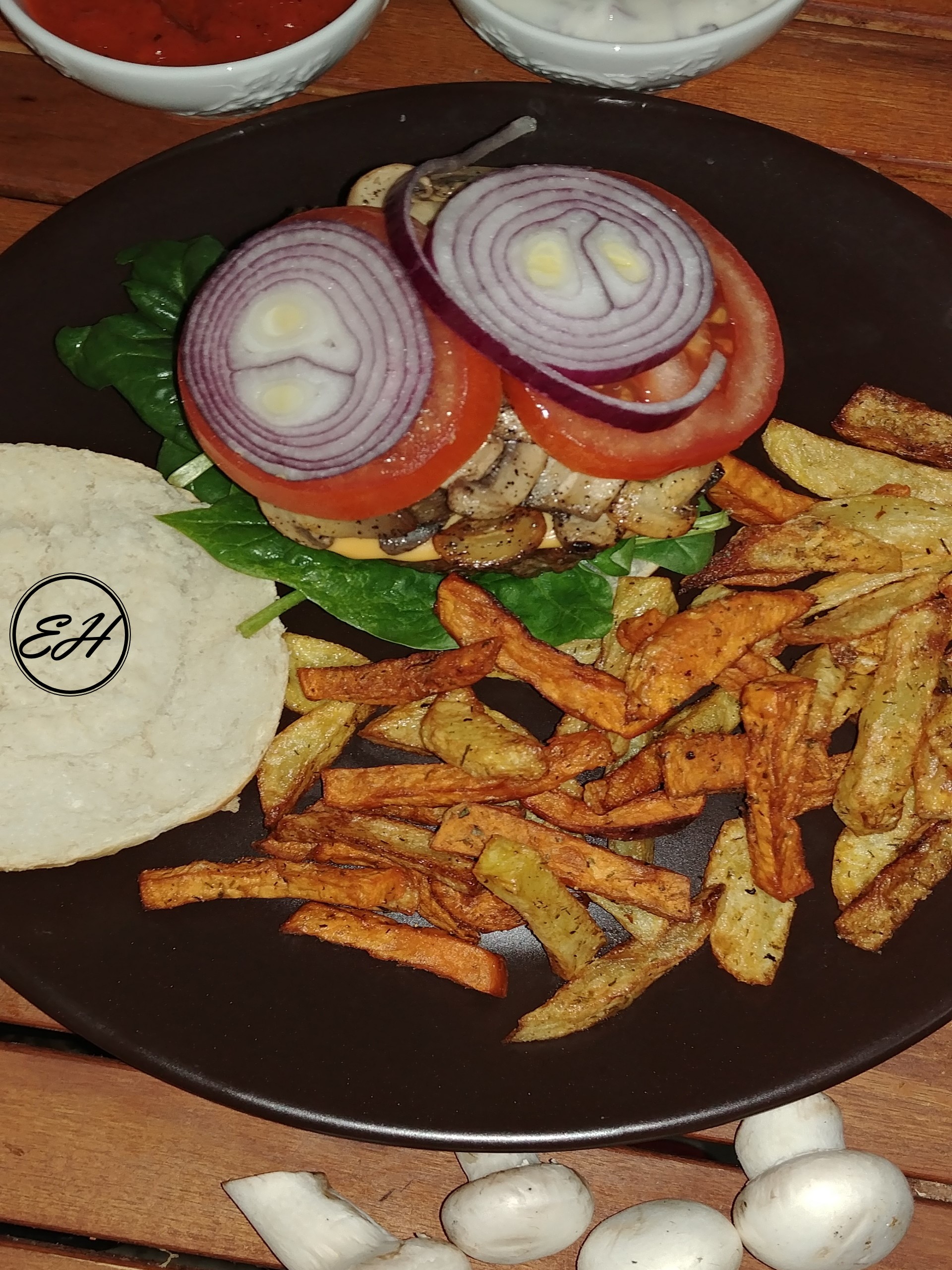 Hamburgers with potatoes and sweet potatoes mix
Hamburgers with potatoes and sweet potatoes mix is a flavorful recipe, and an easy way to incorporate sweet potatoes into your menu.
Ingredients
400

g

beef mince or 2 ready mixed and shaped hamburgers

1

medium red onion sliced

1

medium tomato sliced

1

sweet potato

300-400

g

white or red potatoes

200

g

Champignon mushrooms

50

g

spinach or green salad

4

slices

cheedar cheese

2

buns

1

tbsp

potatoes spice mix

salt

pepper

1

l

palm oil for frying

1

tbsp

mayonnaise

1

tbsp

yogurt

1

tbsp

diced red onion

homemade ketchup
Instructions
Preparing the ingredients
Peel the onion and potatoes.

Slice the onion and tomato. Keep 4-6 slices of onion. Dice the ends of the onion.

Slice the mushrooms. Saute the mushrooms into 1 tablespoon oil with salt and pepper. Put the frying oil to heat, on high.

Cut the potatoes into sticks (fries). Fry in a deep fat fryer or use a heavy-duty pot, on high heat. Mix from time to time.

When the liquid from the mushrooms evaporates they are ready. Remove onto a plate.

Cut the buns horizontally.

Mix the mayo with yogurt and diced onion. This sauce is lighter than the mayo, still delicious.

When the fries are done, remove them into a colander lined with paper towels. While still hot, sprinkle the potato spice mix over and shake the colander to mix.
Assemble the hamburgers
Arrange onto a plate with the potatoes mix on the side.